Uproar Partners
Uproar Partners specializes in running campaigns for Appointment Setting Services and Outsourced Lead Generation solutions within the USA and UK markets.
Headquartered in the USA, Uproar Partners offers the following services to help clients reach their growth goals...
Product Category
Outsourced Lead Generation

Appointment Setting Services
Target Geography
Target Industry
Healthcare

Industrial

Technology

Finance

Consume groups
Target Persona
Technology Leaders

Operations Leaders

Typically C-level.
Campaign Channels
Languages
SDR Location
Price Status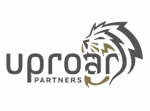 Request Quote